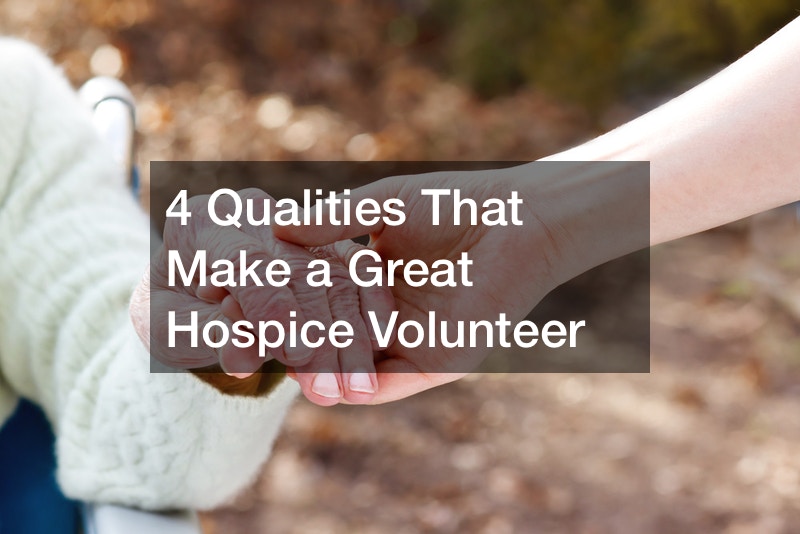 4 Qualities That Make a Great Hospice Volunteer

When it's time for end-of-life care, being a part of a hospice program can make a big difference. Palliative hospice care seeks to make the person as comfortable as possible and to make sure that they have what they need. Many people choose end-of-life hospice care at home. This includes hospice workers coming to the house regularly to perform checkups and to assess the condition of the patient. Many people spend time in the hospital and have their hospice care arranged there. Going home on hospice is a common way to spend the last few weeks or months in the comfort of home. Going on hospice care means that they don't have to do it alone or without the care that is needed.
Because health and hospice care are so important during this time, the hospice workers can help you to get other resources that are needed for the health of the patient. This may be referring you to specialists, making appointments, or telling you about government programs that can help. When a patient is under hospice care, they have a lot of help during a time that can be very stressful and upsetting. It can make this period go more smoothly.
Many modern hospices can thank Frank Church and Frank E. Moss. It was due to the help of these two senators that, in 1974, the first piece of legislation was introduced to allow funding for hospices. Within the past two decades, the demand for hospice care has certainly increased. In fact, statistics from 2015 found that there were nearly 1.4 million patients in hospice care. This demand has certainly increased the need for hospice employees. Many of these employees are on call 24 hours a day, seven days a week. Considering that, many hospices offer volunteer opportunities, allowing those to help bring joy to hospice patients. With that in mind, here are four qualities of a great hospice volunteer.
Follow Through With Volunteer Commitments

In certain situations, hospices will want to have an idea of how many people plan to volunteer for an event. This helps the hospice ensure they have enough people on hand to help out. People who volunteer and end up not showing up often places added stress on holistic care hospice employees. In addition, this creates a situation where other volunteers can't be contacted due to the event already starting.
Be Able to Listen Attentively

One of the things that many in hospice care value is communication. Unfortunately, there can be times where staff need to hand out meals and can't be with a patient at all times. It's during these times that volunteers can sit with patients and listen to them. If you're wanting to volunteer at a holistic hospice, it's important that you're a great listener. That being said, you're likely to benefit from hearing truly amazing stories throughout your volunteer time.
Patience is a Must

It's extremely important that volunteers at holistic care hospices are patient individuals. Hospices tend to care for people from all walks of life. Considering that, this means that you could find yourself helping those with difficulties communicating during your volunteer time. It's imperative that you don't get frustrated or angry with hospice patients. If you find yourself in a situation where you're running out of patience, ask an employee for assistance.
Leave Judgments at the Door

Another important quality of great volunteers is that they don't judge others. Holistic care hospices are not an environment where judgments or criticism of others will be tolerated. You're likely to encounter people with beliefs that might clash with yours. Considering that, it's important to consider yourself there as a volunteer. This means not judging others but rather showing up to help others, no matter what their personal or religious beliefs are.
To summarize, there are several important qualities that holistic care hospices look for in the event that they require volunteers. One of the most important volunteer qualities is being able to follow through on any commitments you make. Failure to follow through with previous commitments could eventually mean a hospice no longer feels the need to contact you for volunteer opportunities. In addition, it's important that you're able to listen effectively to those you'll be in contact with. A great listener can often help improve the day of many hospice patients, especially those without a lot of regular visitors. While volunteering, you might potentially come into contact with a patient that isn't being agreeable. Considering that, it's important that any hospice volunteer is able to exercise extreme amounts of patience. This also means leaving any judgments about beliefs or other personal matters at the door. If you feel you have these qualities, consider contacting a hospice near you to inquire about any potential volunteering opportunities.