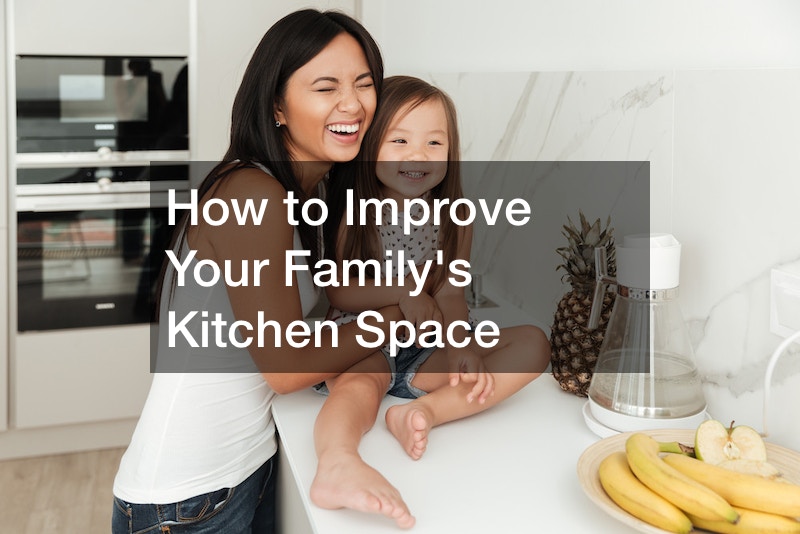 How to Improve Your Familys Kitchen Space

The kitchen is one of the most vital parts of the home; it's where you prepare food and bond with your family. Therefore, improving the kitchen space can give your family a comfortable, functional, and desirable area to spend time in. Renovating your kitchen can also offer many other benefits, including improving your home's value, energy efficiency, safety, storage space, and overall aesthetics. So, if your kitchen looks dim and dull, below are some tips for improving and transforming it into a divine paradise.
Come Up with a Good Kitchen Design
The first thing to do when you want to improve your kitchen space is to choose your desired design. Of course, your design should be based on the kitchen improvement needs. For example, you could be looking to improve the aesthetics, layout, functionality, comfort, storage space, lighting, etc.
One of the top design ideas you can consider for your kitchen remodeling is updating the color scheme. According to the National Kitchen and Bath Association, some modern kitchen color trends in 2023 include greens, whites, wood tones, and blues. However, you can also try color schemes like black & dark tones, earthy tones, or bold colors like red, cherry, and yellow.
Besides color schemes, you can leverage other ideas to improve your family's kitchen. For example, you can give it a new look and feel by updating the lighting (both natural and artificial). Or you can make your kitchen more sociable and family-centered by adding some dining space. Other excellent ideas include enlarging your kitchen or making it more sustainable (solar lighting, energy-efficient windows, etc.).
Hire a Reliable Kitchen Remodeling Contractor
The next step in improving your kitchen space is to hire a reliable remodeling contractor. After all, a lot of work is involved in kitchen improvement, and DIY mistakes could be costly. But more importantly, working with a professional offers you several benefits: better design implementation, faster turnaround, access to quality materials, building code compliance, and more.
But how do you choose a reliable home renovation contractor for your kitchen project? A good place to start is with referrals from friends, family, and colleagues. You could also do an internet search for contractors near you and check out their reviews for an insight into their reputation. Lastly, before deciding on a kitchen remodeler, you should do a due diligence check and confirm their experience, licensing, insurance, certification, etc.
Lastly, when hiring a kitchen remodeling contractor, you need to come up with a budget. Of course, the budget will depend on the improvements you want to make. However, according to Angi, you can expect to spend between $10,000 and $20,000 for minor kitchen remodels, $20,000 and $70,000 for mid-sized revamps, and up to $130,000 for large-scale renovations.
Update Your Floors
The floor is one of the most essential elements of a kitchen design. First, it plays a vital role in the kitchen's layout and, consequently, its functionality. It also affects your kitchen's aesthetic appeal, safety, comfort, cleaning, and maintenance. Therefore, flooring is one of the top areas to focus on when you want to improve your family's kitchen space.
One of the top ways to spruce up your kitchen during a remodel is to restore your floors. Depending on your floor's material and condition, you can choose from several restoration ideas. For example, you could re-stain or refinish your hardwood floors, apply a new coat of paint to a concrete floor, or clean and regrout your tiles. These ideas can help transform your dull floors, making your kitchen brighter, livelier, and more appealing.
Besides restoration, you can also improve your kitchen with new floors. This can be an excellent idea if your floors are damaged or if you are tired of the old, outdated, and worn-out look they are giving. Also, when replacing the floor, you can choose from various materials that refresh your kitchen, making the rest of your home feel new. According to a Fixr survey, top kitchen floor materials include hardwood, tiles, vinyl, laminate, concrete, and engineered wood.
Replace the Cabinets
Cabinets play several roles, including improving your kitchen's functionality by providing storage space. They are also crucial to your kitchen's aesthetic appeal; they can brighten the room and make it appear clean and more organized by reducing clutter. Therefore, replacing the cabinets is an excellent idea if you're looking to improve your kitchen space.
You can choose from several design options when replacing your kitchen cabinets. For example, starting with materials, you can go for wood cabinets, which are durable, easy to maintain, and can give your kitchen an attractive and sophisticated look and feel. Besides wood, you can also transform your kitchen with other options like stainless steel, plywood, MDF board, natural stone, melamine, laminate, and even mixed materials.
Color is another top design option to consider when replacing the cabinets. The right color can make them the kitchen's focal point and improve its aesthetic appeal and ambiance. According to the Woodworking Network, dark colors, neutrals (gray and beige), and whites are popular options for kitchen cabinets. However, you could experiment with other colors like natural wood tones, green, red, yellow, blue, teal, and orange, or mix and match.
Update Your Countertops
Countertops are another vital part of the kitchen; it's where all your food and beverage preparation takes place. Also, they provide a surface area for your appliances and equipment, and you can even use it as a dining space. Lastly, they are vital to the overall aesthetic appeal of your kitchen, especially given their central and conspicuous positioning.
Therefore, updating your damaged or worn-out countertops is necessary to improve the kitchen space. And one of the best ways to do this is by repairing and refinishing them. For example, you can fix cosmetic and minor structural issues with materials like epoxy fillers, resin, or acrylic adhesive. In addition, you can restore or improve the cosmetic appeal of your countertop by painting, re-staining, and applying an epoxy coating, concrete overlay, laminate sheets, or countertop films.
Replacing your countertop material is another excellent option, especially if the surface has suffered extensive damage. And with replacement, you can choose from several materials with limitless possibilities in color, style, and finishes. According to Kitchen & Bath Design News, top countertop materials include quartzite, engineered quartz, porcelain, granite, wood, marble, concrete, metal, recycled materials, and natural stone.
Repair or Upgrade Your Appliances
According to Food & Beverage Magazine, appliances are vital in improving the functionality and convenience of your kitchen. On top of that, they can help to improve your kitchen's aesthetics (by giving it a modern feel), safety, and energy efficiency. Therefore, this is another top area to focus your efforts on when you want to improve your family's kitchen space.
With appliances, one of the best places to start is with repairs. For example, investing in solutions such as true refrigerator repairs can ensure your food stays fresh for longer periods. It can also extend the life of your refrigerator and save you money on energy bills. Likewise, repairing other appliances can improve your kitchen's convenience and safety and reduce utility bills.
Replacing your appliances is also another excellent way to spruce up your kitchen. The new, shiny (and often more stylish) models can help to make your kitchen look more elegant. In addition, new appliances are safer, more energy efficient, and usually come with cool features that make using them a fun experience.
For your appliance upgrades, the top options are dishwasher installation, a new cooktop, a hood extractor, an oven, and a microwave. You can also spruce up your kitchen with smaller appliances like a mixer, a toaster, a food processor, a coffee maker, an electric kettle, a rice cooker, etc. Lastly, when updating the appliances, you can consider upgrades like installing a docking station, stereo system, or wireless speakers — features that can make your kitchen more fun.
Improve Your Storage Space
Storage is another vital element of your kitchen design. With adequate storage, you can better organize your kitchen, improving its functionality, safety, and ease of cleaning. In addition, it increases your kitchen's appeal and comfort, thus ensuring your family has more fun when spending time there.
Therefore, updating the storage is another excellent idea if you're looking to improve your kitchen space. And the best part is you can find several creative ways to add more storage to your kitchen. Some top options include installing additional cabinets during your remodel, adding a kitchen island, or adding shelves in bare wall spaces.
You can also find some simple and inexpensive ways to improve your kitchen's storage and organization. For example, you can install pull-out drawers for items like trash cans and appliances, thus reducing the clutter around your kitchen. Another excellent idea is to install custom drawers, shelves, and cabinet organizers, which can maximize your usage of the space. In addition, according to Proud Home Décor, you can utilize unused and dead spaces like under the sink, narrow spaces next to appliances, over the cooktop, and the backsplash for storage.
Upgrade Your Sink Area
The sink is a kitchen's most essential yet often overlooked design element. It's vital to the kitchen's functionality, as it's where food preparation and cleaning tasks usually take place. A stylish sink can also complement the aesthetic qualities of other elements, such as the countertop, thus helping to enhance your kitchen's overall look. Therefore, consider updating the sink area if you're searching for ways to improve your family's kitchen space.
The best part about updating the kitchen sink is that you don't always have to replace it. Instead, you can restore its original appeal by scrubbing down stubborn stains. Alternatively, you can hire a contractor to refinish the sink by repainting, re-glazing, or applying a new epoxy coating. You can also improve your sink area by hiring services like drain cleaning, which can enhance your kitchen's hygiene and keep it smelling nice and fresh.
You can also give your kitchen a major facelift by replacing the kitchen sink. And during the replacement, you can choose a new and stylish material like stainless steel, cast iron, ceramic, natural stone, granite, quartz, and others. Besides the sink, you can also make other upgrades like installing a waste disposal system, new faucets, and replacing the backsplash.
Improve Your Kitchen's Air Quality
According to the National Institute of Health, the kitchen is full of cooking-related pollutants that can threaten the health and safety of your family. On top of that, odors from cooking, garbage, and the sink drain can create an uncomfortable environment, making your stay in the kitchen unpleasant. Therefore, when looking to improve your kitchen space, the air quality is another vital aspect to pay attention to.
Several solutions can help you to improve the air quality in the kitchen. For example, you can install a range hood or an exhaust vent, which can help to remove the cooking fumes. Other excellent ideas include using an air purifier and humidifier, investing in additional fans, installing larger windows, and servicing your existing ventilation systems.
Besides the air quality, you can also improve your kitchen by investing in heating and cooling systems. And while it might not seem necessary, an air conditioner can be vital for cooling your kitchen during the hot seasons and when you're cooking. Likewise, hiring a heating service for your kitchen can help to keep it warm and comfortable for your family during the cold seasons.
Add an Outdoor Kitchen
An outdoor kitchen is another excellent way to improve your kitchen space. It can give you extra space to bond with your family, especially during the warm seasons. It can also be a great way to keep foul odors and the cooking mess outside. On top of that, it can be a great addition that helps to improve your home's value.
The best part about creating an outdoor kitchen is that it doesn't have to be expensive. For example, you can move your grill and a workbench outdoors to create a simple cooking area. However, if you have the budget, you can hire a contractor to install a permanent kitchen with all the essentials, including an oven, fridge, sink, countertop, and more. And like with the indoor kitchen, you can also invest in design features like paint colors to brighten up the space and lighting to enhance the ambiance, especially at night,
Of course, you may have to invest in more remodeling services when adding an outdoor kitchen. For example, you may need to build a patio to make your yard suitable for a kitchen installation. In addition, you will need electrical and plumbing solutions for your appliances.
A dim and dull-looking space can make spending time in the kitchen boring. However, with the above tips, you can create an improved kitchen space that will be the center of your family's bonding time. In addition, it can offer more benefits, like improving your home's overall aesthetic appeal, comfort, energy efficiency, and value.