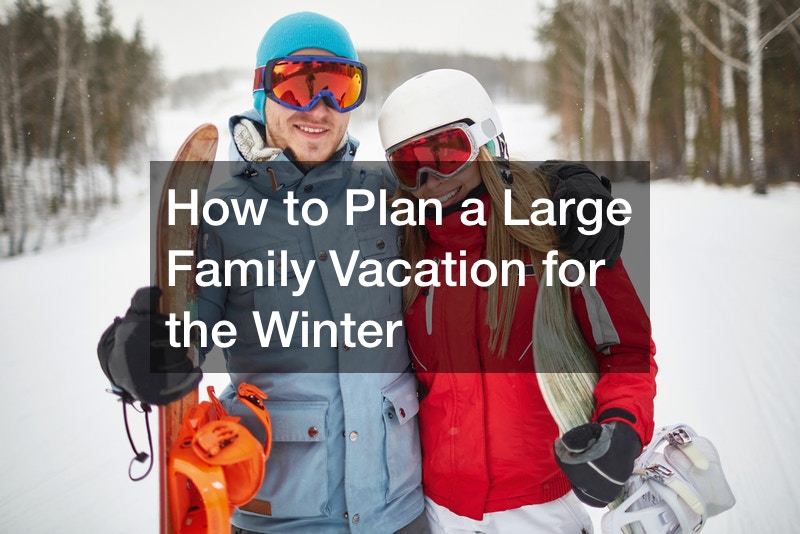 How to Plan a Large Family Vacation for the Winter

Planning a family vacation can be quite exciting, but it can also be exhausting and time-consuming. So, if you're wondering how to plan a large family vacation for this winter, here are some tips to guide you.
Discuss the Atmosphere Of Your Desired Destination With Your Spouse
The discussion of the atmosphere is an essential step as you work on how to plan a large family vacation for winter. The main reason is that the atmosphere of the place has a big impact on how far your family members are pleased. Therefore, you have to decide where to go based on what kind of atmosphere the destination has. The atmosphere of the place is derived from various factors, such as the activities available to do, family events schedules, and weather conditions. With advancements in technology, you can make inquiries through social media platforms and obtain accurate information.
You can use the internet to check out what activities are available at a certain destination, or you can go to travel agents for advice. In addition, you have to consider the family events schedule, because it has a big influence on your decision. For example, there are big ski events scheduled at a certain destination during the winter season. In short words, these events make these certain destinations more attractive and fun places to visit in winter. Furthermore, when considering the weather conditions, you have to learn about the average temperature of the destination during the winter season. The reason for this is that, if the average temperature of the place is not cold enough for your family members, they will probably complain about being bored because there is nothing much to do outside.
Establish a Budget Before Planning the Family Vacation
A large family vacation during the winter is a must for many families. It's not hard to see why when you think of all the fun things there are to do and the memories that can be made with so many people involved in such an experience. But while it puts a lot of joy into your life, it can also bring with it a blizzard of expenses. This is why establishing a budget while seeking to plan a large family vacation during winter is important. It is, therefore, recommended that you establish a budget before planning a large family vacation during the winter. This can help to make sure your finances are not stretched too thin, and you don't end up overspending on this trip of a lifetime. It also gives you the advantage of knowing precisely what you can afford to spend on a large family vacation during the winter.
If you're wondering how to plan a large family vacation during the winter, it is important to be realistic about what you can afford. Many families set themselves up for financial failure by setting their expectations too high and then not meeting those expectations when they go over budget. It's better to keep your expectations in check and spend as much as you feel comfortable spending.
Consider Your Children When Choosing Your Vacation Destination
Winter vacation is quickly approaching for most families, and if you are planning on taking a family trip during that time, you need to consider the children when planning. Without making some modifications to your plans, it could be very miserable for everyone involved. A large family can travel together so long as they follow certain guidelines before the trip begins. There are several things to remember before finalizing how to plan a large family vacation for wintertime. First, make sure that your children are out of school during this period. If they are not, then it won't be easy to complete your trip.
It would be best to consider how many people will be traveling with you and whether you will need a party bus to make the experience more exciting. It is difficult enough to keep the children occupied on a family vacation, but it can become more complicated with extra individuals added into the mix. If you are traveling with another person or couple, you should not have too many problems planning your trip effectively. You will need to make some modifications for everyone to be satisfied throughout the journey. If you are only traveling with your spouse or significant other, things get a little tough.
Pick a Place That Offers Excellent Family Amenities
An important step when planning a large family vacation during winter is to consider your family's needs. If you are looking for a getaway over the winter break, there are ample opportunities available for you. However, finding a place with everything laid out perfectly for families with children cannot be easy. Keep in mind that this is a cold season, and there is a great need for AC service to regulate the hotel room temperature when you finally settle in. Even if you have seen an advertisement on TV or in a travel guide, you might want to think about some of the other aspects not mentioned in this advertisement. When planning a large family vacation during winter, it is important to find a location with amenities for the whole family. Some of these amenities may come in an expected package, while others will be more unexpected.
The unexpected might pose a greater value to you and your family. One of the biggest concerns you will have when planning a vacation is the safety of your kids. When choosing a location, look for an area with medical facilities nearby if something unexpected like knee pain happens, and you need a chiropractor to help relieve the pain. A lot of areas provide health care clinics that operate only during certain hours. It is also good to know the area you are traveling to has medical transport solutions. An unexpected illness can pose a threat if your family is far from home, so make sure there is no chance of being stranded somewhere not safe for your kids. You may want to choose a location that provides amenities for both mom, dad, and children. Perhaps mom would wish to visit a beauty spa that specializes in facials, and it should not be difficult to access such an amenity.
Find a Vacation Spot That Has Activities For The Whole Family
If you have a large family, it can be tough to decide on an appropriate destination for your winter vacation. Vacation spots that tend to work best include those offering activities for families with children of all ages, but other factors should also be considered. If you have a large family, it's important to select a vacation spot that offers things for everyone in the whole family to enjoy. Kids of all ages typically love going on an amusement park trip or two or three times! Amusement parks are wonderful during the winter months because Mother Nature provides warm weather and plenty of fun rides and attractions. And for parents, you can enjoy watching your kids of all ages having a blast on exciting roller coasters while feeling great about staying fit!
If you're wondering how to plan a large family vacation, another activity every big family should consider is a good old-fashioned water park. Water parks are ideal for families with kids of all ages because they can get wet and wild on exciting water slides or relax during a lazy river ride. And parents get to sit back, relax and watch the whole family have fun!
Find a Family Oriented Hotel or Resort
Winter is quickly approaching. If you are like most Americans, you love to take family vacations during the winter break. You are planning to take a vacation, so it makes sense to find an ideal location that will make the entire trip enjoyable! Most people choose warm weather locations with beautiful beaches, but this may not be ideal for everyone if you have a large family. It's important to consider your options when looking for a destination that is best suited for your family size. For some people, this may mean finding a hotel with enough rooms for everyone. It may also include searching for hotels with amenities that suit your family's needs.
The ideal location for a winter family vacation may be a hotel/resort with an indoor water park and excellent bathrooms which have undergone plumbing repair. If you have a large family, this is one of the best options available to accommodate everyone's needs without feeling too crowded. Finding a hotel that will allow pets is also an excellent idea if your kids bring their furry friends. They will appreciate this, and you won't be stuck watching them in a lonely hotel room. It is also important to consider the resort's activities designed for children, and that they can enjoy their privacy while they are in their rooms. Window blinds might be an excellent way of achieving this.
Plan Your Holiday During Prime Tourist Season
Wondering how to plan a large family vacation during winter, holidaying during the off-peak season is a great way for large families to save money on vacation costs. With winter comes cheaper hotel rates, lower airfares, and less crowded attractions. However, there are some problems with visiting during the 'off-season.' It can be difficult to find travel deals and packages, so it is important to plan well in advance. It's also important to research areas you are interested in visiting. If you live in an area with distinct seasons, perhaps flying south for the winter is not your best option. Do some research into inexpensive vacation ideas that match up with your family's preferences and busy schedule so you can maximize both time and money spent on your large family vacation.
Large families who would like to vacation in a warm climate during the winter months have many options. The winter season brings with it fabulous discounts and deals on hotels, airfare, and attractions. It also offers unique experiences not available during the summer. Winter is the off-season in many southern climes, but it also offers unique experiences. It is always best to plan a family vacation during the prime tourist season, since there is more to do and fewer crowds. The weather is also on your side; it is warmer, and there is no rain or strong wind that might trigger a tree removal that might lead to a replacement windshield.
Book Flights Through a Travel Agent
When finalizing how to plan a large family vacation for the winter, booking a flight through a travel agent is an important step. A travel agent can help you plan your destination, find the perfect hotel that fits your family's needs, and find the best deals on airfare. Travel agents have access to special deals that are not available anywhere else. It's possible to find a package deal that includes airfare, hotel, and car rentals. This is an excellent way to save your family money. Travel agents know the destination inside out and can help make recommendations for attractions, restaurants and will even book tours or spa packages if you desire.
A travel agent has access to all types of transportation and can suggest which method might be best to use and which would work best for your family. Travel agents can also help you map out a day or two at the destination that allows you to take in as many attractions as possible without spending too much time on travel. They will know what events are going on while you are there, where local sporting events are taking place, and any major events that you should try to experience while you are there. Travel agents can help make your family's Large Family Vacation for the winter truly special and stress-free. They will plan it from beginning to end, leaving you with more time to enjoy yourselves. You won't have to worry about a thing! That is priceless!
Consider Traveling During the Week
Stranded on how to plan a large family vacation during winter, you should consider traveling during weekdays. The winter season brings with it various occasions that families have been waiting for! While the skies are clear and the days are longer, many look forward to a long vacation away from home. Many also consider visiting relatives as an ideal way of spending consecutive holidays with family members. All this contributes to one thing – a large family gathering! But as the number of family members increases, so does the planning and preparations necessary.
For those who have been trying to figure out how to plan a large family vacation without being stumped, well, now there is a way! Going on a large family vacation during weekdays can be a good alternative because not only will you spend less on hotel rates, but you also have lower fares for air tickets or even certain cruises. Another way of looking at it is that you can plan a trip wherever you want to go and avail the same benefits as those who go on a family vacation during weekends. You even benefit from having a family vacation that is more relaxed with fewer people around.
Plan For Additional Expenses When Traveling
Before you start planning for your next family vacation, it's important to plan for additional expenses. Even though a large family may have the space and personal power to save money by preparing food onsite, not all families can afford to purchase land or build a home large enough to hold their entire crew. Thus, they tend to choose affordable accommodations that are likely to charge additional fees for everything from babysitting to transportation. Anticipate this, and have a plan in place.
This is an important step when planning for a large family vacation during the winter months. Essentially, families should consider that not only will certain things be more expensive than others because of the time of year and location, but also that there are many ways to get around expenses and make their trip easier.
When working on how to plan a large family vacation in winter, keep in mind there may be additional sacrifices needed to afford the trip. Although many families might prefer to stay in a luxurious hotel with all the amenities, such an arrangement can add up quickly. It's not that large families can't afford these types of accommodations; rather, some may be forced to go this route because they need space and outdoor activities more than luxurious accommodations.
Many people assume that winter is not the best time to take the family out on vacation. However, with the right plan and information, there is a high chance that your family members can enjoy a winter vacation.