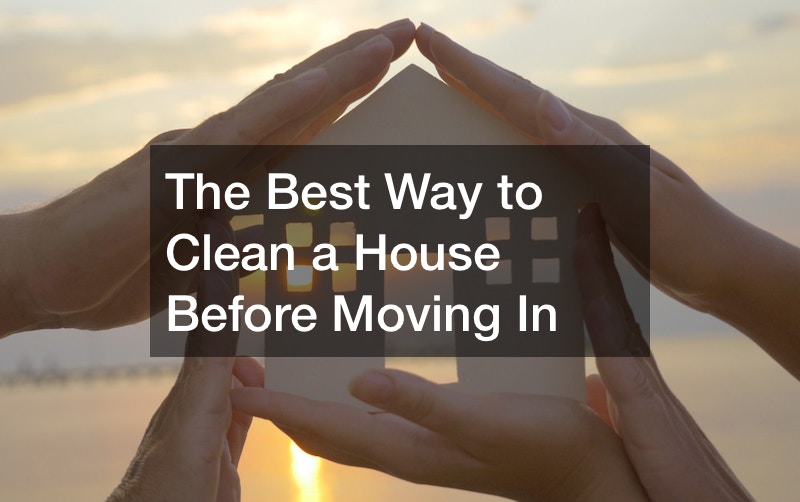 The Best Way to Clean a House Before Moving In

As exciting as it can be to move into a new home, there's no denying the efforts to clean the space before you get your furniture and belongings there.
What your new home needs isn't a simple scrub, it needs a deep clean. If you're looking for the best way to clean a house before moving in, here's your checklist to help make it simpler.
Best Way to Clean a House Before Moving In
There's more to your new home than just floors, walls, and roofs. It helps to go the extra mile when it concerns deep cleaning.
Cleaning Your Air
Keeping indoor air clean is important, even more critical when you're shifting into a new place. The best way to clean a house before moving in is to keep your air clean.
If the house has an HVAC system (heating, ventilation, and air conditioning system), it's mainly responsible for your home's air quality and comfort level as far as indoor temperature is concerned. Check with air conditioning services around the area and have them send a technician to check if everything is in order or get some servicing done if needed.
Remember, getting the HVAC system serviced at least once every year is good practice.
Checking For Rodents
You want to ensure you don't have any unwelcome guests in your new home before moving in. From a mouse infestation to roaches and bed bugs, pests and rodents don't make a pretty sight.
Checking for any infestation is equally important if you're looking for the best way to clean a house before moving in.
Check for signs of a mouse infestation by looking for mouse droppings, checking under appliances for nests, or any gaps, cracks, or holes as tiny as 1/4-inch for mice to squeeze through. If you suspect mice, call for rodent or pest services to deal with them before you move in.
Bed bugs would be a possibility if the house already has mattresses. To be safer, use the services of a bed bug exterminator before you move any furniture into your new home.
Cleaning Your Kitchen
The best way to clean a house before moving in involves a thorough cleaning of the kitchen.
Cleaning off any grime and odors from your new home's kitchen is essential before you can get your kitchen essentials and start cooking. There are several elements that you need to clean thoroughly.
However, suppose you want to improve the existing kitchen and get it renovated before you move in. In that case, you'll probably have to look into any kitchen remodel contractors who will restore, repair, or construct a new kitchen and oversee the project from start to finish.
If you're happy with the existing one, here are some handy tips to help clean your new kitchen:
Start From the Top
Cleaning from the room's top is the standard way of cleaning. Start dusting the ceiling, vents, fans, corners, and light fixtures. Use your vacuum cleaner's telescoping attachment for the high spots.
Clean the Walls
Cleaning the walls also means cleaning the corners and around light switches. Since kitchens can have wallpapers or painted walls, the cleaning technique differs for each type.
Wallpaper: Use a microfiber cloth to remove dust off wallpapered walls. Follow this with a wipe-down with soapy water.
Painted walls: For the flat painted walls, sponge some soapy water, scrub, rinse, and then dry the walls with a towel. For sticky walls, try using fabric softener.
The Cabinets
You must clean the cabinets inside out. After dusting the cabinets, use a soft cloth to wipe them down. Don't forget to use shelf liners inside the cabinets.
Use a mix of baking soda and white vinegar or an all-purpose oil cleaner to eliminate grease. As for the handles, a gentle all-purpose cleaner will do.
The Counters
Except for marble and granite counters, use one part water mixed with one part vinegar for squeaky clean countertops. Use a putty knife to clean any debris between cracks (especially between the countertop and stove).
The Sink
For a stainless steel sink, use steel wool for any stubborn stains and rub some lemon juice all over the sink for an extra shine. To eliminate any sink odors, pour a mix of baking soda and water down the drain, especially if you have a garbage disposal system. Finally, don't forget to bleach the plugs by placing them in a solution of water and a little bleach.
The Appliances
If the kitchen already has a built-in microwave, stove, refrigerator, or dishwasher, you'll have to get each appliance cleaned appropriately. It's important to clean behind the appliances, too, if possible.
The Floor
Once you're done with all the other steps, the floor remains to be swept and mopped. If the floor is of hardwood, linoleum, vinyl, or dirty or scuffed stone, it'll need slightly more elbow grease to get clean.
Checking Your Pipes
Another factor that needs to be checked thoroughly before moving into a new home is the plumbing. Here's a plumbing inspection checklist:
Check for drips or leaks (shower fittings, under the kitchen and bathroom sinks, and under radiators)
Check for water stains on walls
Check for any lead pipes (these can corrode over time, cause leaks and contaminate your water supply). Use a magnet; if it doesn't stay on the pipe, the pipe is most likely to be lead.
Check for leaky taps (indicates a problem with the main water valve)
Check the toilet (tank level, flush valve, fill valve, and flushing functions)
Check the water quality (dirty water could mean plumbing issues)
Check the drainage system (for blocks or odors)
Check if the water heaters work fine
If you're uncertain about any plumbing component, get the local plumbing company to schedule a plumbing inspection for a thorough check. That way, the professional plumber will take care of anything that needs to be fixed.
Emptying Your Septic
If you're moving into a house with a septic tank, there are a few extra steps you might want to consider.
It would help to get the system inspected and know the specifications of the system. A septic tank needs regular inspections and maintenance and must be drained regularly to avoid issues. Since solids sink to the bottom of the septic tank, they need routine maintenance and emptying.
Consider getting septic pumping done before you move into your new home. Since mechanical pumping is typically required every three to five years to empty the tank, you can wait it out if you get one done before shifting.
Ensuring Your Water's Clean
Considering that we use water for 70% of our daily activities, it is essential to check the water quality of your new house to maintain proper hygiene and health. Apart from the best way to clean a house before moving in, ensuring good water quality is also vital.
Often, the water might not have a bad smell or taste, but could still contain harmful contaminants like chemicals and germs. Have the drinking water and raw water of your new home tested before you start using it.
Or, you could go the extra mile and check with a well drilling company around your new house to see if you can have a water well installed.
A modern drilled well is more than just a hole in the ground. It's properly lined and sealed to prevent the entry of contaminated water. It also has special screens for maintaining a proper flow and filtering out silt capable of clogging the well. A pump is used along with underground plumbing for a pressurized storage tank in the house.
A well can ensure a good quality water supply for your home, provided it is adequately maintained.
Cleaning Your Bathroom
Since we're talking about the best way to clean a house before moving in, it undoubtedly implies cleaning the bathrooms thoroughly too.
Here's how you can go about it:
Start at the Top
As with the kitchen, you must start cleaning bathrooms from top to bottom. Clean out dust, cobwebs, and dander from the ceiling, light fixtures, corners, and vents. You could use your vacuum cleaner's telescopic fitting for the higher, tough-to-reach spots.
Clean the Mirrors and Windows
Use any general-purpose cleaner for windowsills and window cleaner for glass. A bleach cleanser works well to get rid of any mildew or mold. Alternatively, you could try mixing one part bleach (with chlorine) and three parts warm water and use this with an abrasive sponge or old toothbrush to scrub away.
For blinds or roller shades, dust them off with a brush or vacuum, then use soapy water and a sponge to clean off any remaining dirt.
Closets and Cabinets
Use a damp cloth or paper towels and an all-purpose cleaner to wipe drawers, the linen closet, and the medicine closet. Don't miss cleaning the pulls, knobs, and handles too.
Shower and Tub
It goes without saying the tub, shower, and enclosures need proper scrubbing. A non-abrasive cleaner or an all-purpose tub cleaner works well for this.
For any residual soap scum on the glass shower door, mix one part vinegar and one part dish detergent and spray it on the residues. Wipe it down after about 30 minutes.
Consider installing bathroom shower doors if your new home's bathrooms don't have them already. They help reduce water spillage around the bathroom, keeping it clean and dry. You have several options with glass shower doors these days – sliding, folding, bi-fold, curved, steam, frameless, or clear.
Sink Area
Use a non-abrasive cleaner and an old toothbrush to clean the sink and fixtures with an old toothbrush for seams and openings.
The Toilet
With a disinfecting cleaner and paper towels, sponges, and a toilet brush, clean the inside, outside, and around the toilet, including the back and the handles.
Checking Your Insulation
As important as the best way to clean a house before moving in, good insulation is also vital to help reduce your energy bills. This means checking the insulation around the house, including the attic, walls, and floors adjacent to any unheated space, like the basement or garage.
The type and thickness of your home's insulation determine how well your home is insulated during any season. Of course, you could always have an expert check your new home's insulation; older homes have less insulation than ones built today.
If you decide to add insulation to your home, consider insulation products that also provide structural support, like structural insulated panels, attic or roof radiant barriers, and reflective insulation. There are specially designed insulation tapes and adhesives for use with air gaps or cracks.
Cleaning Your Pool
Considering the best way to clean a house before moving in involves the elements outside the house as much as inside. There's nothing like a lovely pool to enjoy with your family or friends in your new home. If you're moving into a home that has a pool, consider pool inspection, safety, and maintenance.
You can get any local pool service company to check your pool for leaks, plumbing, or pump problems. Additionally, ensure pool safety if you have children by installing a gate or fencing. Any doors or gates around your yard must have high latches that a child can't reach.
Cleaning Your Fireplace
The best way to clean a house before moving in, especially if you're moving into a home with a fireplace, is to ensure fireplace safety and thorough cleaning before you start using it.
Some of the fireplace cleaning and safety tips include:
Clear off any debris and have the firebox and bricks cleaned
Consider a fireplace remodel (if you feel the current one is outdated)
Keep an extinguisher handy
Ensure your smoke and carbon monoxide detectors are installed and properly functioning
Moving into a new house can be exciting and tiring at the same time. Now that you know the best way to clean a house before you move in, things should be slightly easier when you do.