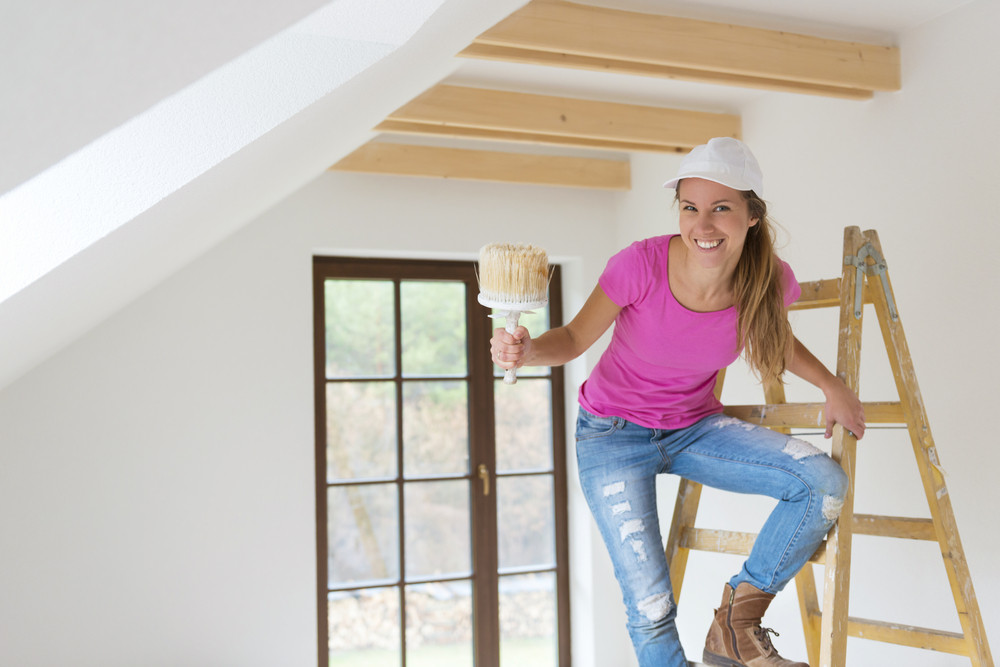 Home Sweet Renovated Home

You made the decision to improve the look and feel of your home. You've scanned Pinterest, visited home improvement websites, and memorized all this year's Better Homes and Gardens' issues. It's a big step, but a reasonable one: you simply want to make your home more comfortable for your family.
Once you've made the decision and ask for help, everyone will want to give you free home construction tips. Uncle Bob will gladly tell you all his home construction tips, but they won't make sense for you, because it's your space. Your home is as unique as you are. Whether it's just one room or a whole house flip, assess your needs and your goals before you accept any advice. It's reasonable to want to tackle simple home improvements. You're not alone, over the last five years or so, the remodeling industry has grown by almost 5% — just from consumers spending cash on their home improvements. According to a Harvard University Joint Center for Housing Studies, spending on home (owner and rental properties) improvements and repairs reached $425 billion in 2017.
First things first, budget! Start with what you are willing to spend and then add 10% for the inevitable mistakes and unforeseen issues that are bound to come up. Home construction tips and advice are free but their implementation isn't.
There are many apps that make it easy to figure out the cost of your renovations or updates. There are also apps that take a picture of the room or rooms you want to renovate and calculate the measurements for floor and wall space. These apps are helpful if you're replacing appliances, or buying a new flat-screen TV for the living room. Certain box stores have cost analyzers so you can figure out if it's worth it bundle appliances for additional cost savings. Hint: If you're replacing an old appliance, ask if the company will remove and haul it away and safely install the new one. Otherwise, you're looking at the possibility of getting multiple contractors involved like an electrician, a plumber, and the appliance guy.
Next, look into the ordinances in your area. If your renovations only affect the interior of your home, you may be in good shape. A general contractor of a construction contractor can help out in two ways here. They can let you know what needs to be permitted and they can put you in touch with vendors and craftsmen who do specialized work. However, if there are HOA's or organizations that carefully monitor changes to the exterior of homes, you had better reach out to them before you hammer one nail. If your home is in a historically preserved community, you may be limited to certain materials or architectural embellishments.
For some municipalities, additions or any new construction on existing structures, remodeling or repairs of $5,000 or more, require a permit. Updates like installing new windows or shutters won't. But don't be fooled, if you're cutting a hole for a new window, door or a skylight, you're going to need to head to the township office. Likewise, if you've got to install or replace plumbing, a permit is probably required. Installing a new toilet or vanity in the bathroom doesn't fall under permit requirements. If you're going to tackle some plumbing issues yourself, make sure you have the number of a 24 hour plumber, just in case of emergencies.
In fact, any job that includes installing new electrical service to your home will also require a permit. Repairs or remodels that include electrical issues are rarely DIY jobs, you're better off utilizing electrician service. Qualified electricians are going to be familiar with codes and specifications for your home. This is why you want to contact the professionals for home construction tips and advice.
Simple starters
Clear it out
One of the easiest ways to make your home comfy is to reduce clutter. Less stuff means more comfort. Removing unnecessary knickknacks will give you less of a closed-in, stuffy feeling in your living space. It might be tough letting go of things with emotional value. Ask yourself: Can I live without it? Does it make me happy? Can I give it to someone who loves it more than I do? Companies like 1-800-Got-Junk can come to your house and remove the mess. Remember that 20-year old artificial Christmas tree? Toss it. Before you make that call to haul it all away, however, a call to a local auctioneer or dealer who specializes in estate sales should be made first. Collector's items are often mistaken for trash.
Furniture fun
Rather than buying new furniture, just move it around. Improving your space may only mean rearranging the components in your room for an easier flow. Most homeowners box off their rooms by shoving chairs, sofas, tables, and entertainment elements again the wall. It may look open, but does it work? Find the focus of your room and arrange your components around that. A fireplace, a table, a bar, or a window with a beautiful view.
Light it up
Most home construction tips lists, omit advice for proper lighting. Consider using a mix of overhead lighting, floor, or table lamps. Soft lighting can add to the room's warm and comfy feeling. Good lighting or adjusted lighting is essential if you want to use the room you're redoing for reading or computer work. Brighter lighting is appropriate for tasks like reading and computer work. Accent or soft lighting is best used to highlight an area or piece, such as a work of art. The brightest light should be in your bathroom. Interior designers suggest that rooms should have choices of lighting to illuminate and to also set a mood.
Inhale
And because you're a human, you employ all five senses on a regular basis. Consider how your house smells. Have someone who doesn't live with you, tell you what they smell. Don't fret if they say something negative (musty, cat, smoky, moldy) their nose may be what prompts you to get rid of that old couch. Or putting the litter box someone where else. A house that smells like clean laundry or fresh flowers is a house that is going to make its owner and guests feel relaxed.
The temperature
How do things feel? Are you hot or cold? Too dry or humid? Do you need to invest in a dehumidifier, a new air conditioner or just air conditioning repair?
Maybe the best thing you can do in order to make your family feel comfortable is to invest in an HVAC system. An HVAC company can install, repair, and provide maintenance on heating and air conditioning systems.
Keep an eye on it
Since you've put a lot of time and money into your renovations and updates, it's time to install or update your security system. There are several reliable home security guides that help you determine the kind of system you'll need for your home. Consider motion detecting lights, security cameras, changed the locks; all these can address potential security threats.
If you're not feeling comfortable about your neighborhood, get a garage door opener to limit your exposure to the elements and get you from your car into your garage safely. Don't forget fire alarms.
Tour your house. Top to bottom
The roof
It may not have been on your original list, but ceilings and walls are directly affected by a leaky roof. Of all the important home construction tips repairing a roof is the toughest especially after damage. Allow a professional to take a quick inspection of the roof and the gutters. If you're in need of emergency roof repair, look for a roofer with experience in your neighborhood. You should also consider investing in companies that specialize in residential roofing.
The kitchen
Considered the most important room in the house. You'll be having major events—cooking for Thanksgiving, packing lunches for the first day of school, brunches for brides-to-be. Adequate counter space, cabinetry, and working appliances are necessities for every kitchen. An easy and inexpensive renovation is painting the cabinets. A fresh coat of paint, paired with a unique glass tile backsplash, can turn around the look and feel of this high-traffic room.
The living room
A gathering place, and the room where you want to be the most comfortable. It should be a place that is built for relaxation. Sofas should have tables within arm's reach. Wall colors should reflect your desired goal. If you want to relax, pick pale, cool colors. For a happy vibe, choose yellow and for creativity reds and oranges can heat up your imagination. If you don't have time or the inclination to paint, choose wall art or pictures that make you happy. The idea is to want to come home after work. And relax.
The bedroom
Interior designers insist this is the room where you don't want to skimp. You actually spend more time int his room than any others. Bedding and pillows can either give you a headache or comfort. A quick and easy comfort move is to replace your bedding and/or get a new mattress. Look for technological advances like temperature-neutral foam, memory foam which conforms to your body shape, and individually wrapped coils. As for walls and window treatments, choose colors that suit you. Generally, pale blues and muted silvers are cool relaxing colors that can actually help you sleep. Sleep experts generally agree to keep electronics out of your room. The light from computer and phone screens keep your mind alert.
The kid's bedrooms
Three things to think about when you're making the rooms comfy for the kids. First, have a place for everything. Toys need to get stowed in cubbies or chests. Next, let the kids pick out colors and certain items (tables, lamps, artwork).
Lastly, encourage them to put work into their own room, like, helping paint a wall. This allows them to feel a sense of ownership. Family therapists advise that if you're divorced and your child custody agreement provides for weekend visits, your kids need their own room. It should be similar to their room in the other parent's home and have familiar items, like a favorite stuffed teddy bear. It should be a place they have a say in decorating and adding things that make them feel comfortable. Try not to impose your paint choices or home construction tips on them–they only want to feel happy and safe.
The basement
This is the best room to renovate. If it's finished (as in not a dirt floor) you can update pretty inexpensively. Although you may need to start with drywall, one of the best home construction tips is to make sure the basement is safely waterproofed. Mold in basements is one of the most difficult things to remedy. And you don't want electronics in an area that is going to have water issues. In general, basements are versatile and can function as an extra bedroom, guest room, home gym, game room, man cave. The possibilities are endless.
Be prepared for the unavoidable delays, mistakes, and blunders (yours and the workers'). Whenever you make the attempt to create a beautiful, comfortable home, there's bound to be a few missteps. Make sure you have a clear understanding of what's expected of you and what's expected of them. Contracts are good things to have when hiring anyone to renovate or repair your home.
Most companies don't operate without one. Read carefully to see if there's a deposit, what about refunds, and what's covered under their guarantee? One of the secret home construction tips is that contractors are more willing to refund money than to get a bad review or complaint to the BBB. Also, do your own homework to see what's covered under your homeowners' or renters' insurance.
Be willing to let go. You may have your heart set on a ceramic bowl for your bathroom vanity. But then when you see it (and the price tag) you'll have to forget about it. Best to have a substitute or a plan B in case the paint, tile, or lights don't work with the rest of the décor. Go ahead and let go of a few things along the way. You may find something better, easier, or more cost-effective. This also goes for the workers. Another top tip of all home construction tips is to be ready to negotiate if they can't come through the kind of granite counter tops you selected (and put a down payment on).
Take your time. All these home construction tips aside, enjoy the moment. Making your home into your happy place can take time. Be patient and be willing to enjoy the little achievements you've attained so far.