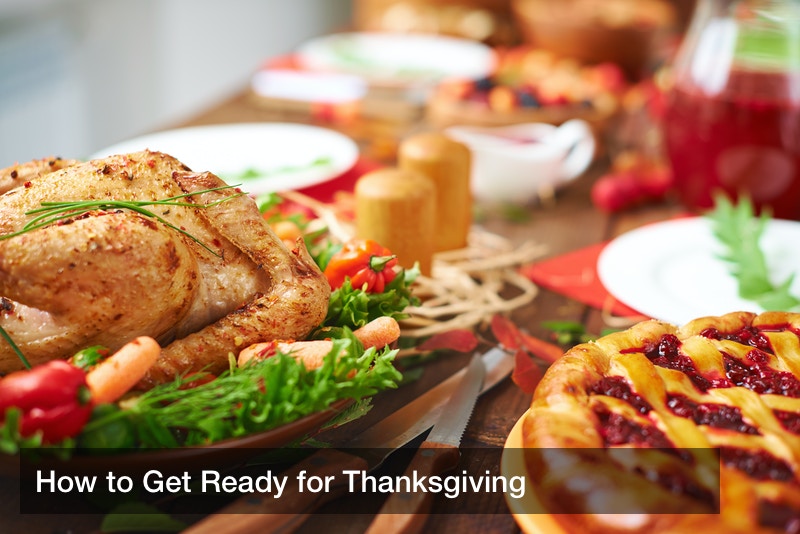 How to Get Ready for Thanksgiving

Are you ready for Thanksgiving? It's a great question, and it's also one plaguing many hosts and hostesses around the nation.
Every year, Thanksgiving rolls around on the fourth Thursday of November. It's usually looked at as a holiday that kicks off the big December partying season. It's also one of the only times of the year that nearly every meal is made by hand. In fact, under normal circumstances, only about a quarter of evening meals are prepared in a home kitchen. But Thanksgiving is deliciously different!
However, it's important for us to get back to that major inquiry: Are you ready for Thanksgiving? And when we ask are you ready for Thanksgiving we mean that on a number of levels. If you're not sure how you would respond, take a gander at the following steps to help you plan for a Thanksgiving to remember. By the Wednesday before, if someone asks, "Are you ready for Thanksgiving?" you'll respond with an eager, "You bet I am!"
Map Out a Scrumptious and Appropriate Menu
Most Thanksgiving dinners are going to include a roasted or fried turkey, some kind of mashed potatoes, and a litany of pies. However, you'll probably want to add much more to your menu depending on who's coming.
Many families like to branch out at Thanksgiving and explore new recipes. For instance, are you ready for Thanksgiving tater tot casserole? Are you open to making and serving cakes and homemade ice cream? The world is your oyster when it comes to serving up fun victuals at your Thanksgiving table.
As a side note, you may have picky youngsters at your home. Don't make yourself crazy by trying to get them to eat regular, ordinary feast stuff like turkey and all the trimmings. Instead, pop something different and maybe even healthy in the oven, like broccoli crust pizzas or even mac and cheese. It's so much nicer to just give them something they'll actually finish than turning Thanksgiving into a fight.
Ask for Help in Dishing up Delicious Dishes
Since you're already thinking of all the food stuff for your Thanksgiving buffet, consider asking for a bit of assistance. Many families can only answer yes to are you ready for Thanksgiving after they've divided the food assignments among numerous guests.
This doesn't mean you get to overload Aunt Erma, of course. Make sure that you only ask relatives and friends to contribute a reasonable amount. Otherwise, you'll be left with tons of leftover food and some cranky visitors. But asking for people to bring something to the feast, even if it's just disposable tableware, a lovely centerpiece, or bottles of water for staying hydrated, is appropriate. To be honest, many folks love to add something to the overall experience anyway, and they'll be glad you asked for their help.
Know Your Guest List
Menu? Check. Food assignments? Check. So are you ready for Thanksgiving? Well, not quite yet. You still have a few things to take care of, including the guest list.
Even if the same people tend to come to your house for Thanksgiving year after year, take a moment to jot everyone's name on a paper. You might be surprised at the people who will and won't be around. Someone could be going through a divorce and not coming, or a new spouse may need to be added to the festivities.
As you're mapping out who's coming and who's not, be aware of where everyone's coming from. For example, you may have a relative who lives in an assisted living community who didn't last year. That person may have trouble getting to and from your Thanksgiving meal, which puts the burden on you to find appropriate transportation for them. You don't have to pick them up yourself, necessarily, but do assign the responsibility to someone you trust. That way you know they won't be forgotten in all the hubbub.
In addition to setting up your guest list, mark anyone you think might be spending the night. Then, prepare your guest room accordingly, or at least figure out a good guest space. Even if you have people staying overnight in your livingroom on the sofa bed or on comfy blow-up mattresses, you'll want to make arrangements ahead of time so they have clean linens and bath towels for Black Friday.
Make Those Nagging Home Repairs
Be perfectly honest: are you ready for Thanksgiving guests to see the inside of your home? Or do you feel like it's not quite showroom worthy the way it stands? If you're leaning toward the latter category, check out some quick DIY home remodeling videos online.
You might be surprised at how much you can spruce up the inside and outside of your house, even if you only have a week or so to do it. Of course, if you have longer, you can call someone like a countertop contractor to help you give your kitchen or dining area a facelift.
What types of things can you do quickly and affordably to spruce up your house? First, declutter every room that's going to get traffic. From the downstairs powder room to the rec room where everyone's going to watch television before and after the big meal, clean the place from top to bottom. Discard anything you no longer want, or at least find a place for everything.
Next, consider making any major repairs. For instance, is your dining room looking drab? A new coat of paint could add a boost of personality and life. Similarly, if your wood floors are marked up, a quick scrub-down could be just what the Thanksgiving turkey ordered!
Finally, be sure your home smells as good as it looks. Vacuum up any pet hair and be sure to scour those litter boxes. If you haven't changed your whole house air filter recently, prior to Thanksgiving is the perfect opportunity. Oh, and from a safety standpoint, be certain your fire alarms have updated batteries. Yes, it's annoying to have a fire alarm go off if you accidentally burn the yam casserole, but you'll be glad those alarms are in working order.
Make Sure Your Home is Safe
Speaking of safety, you'll probably want to do a few more things to your house before your first guest rings the doorbell. Take a look around the outside to begin with, starting with your walkways. Notice any uneven sidewalks or paths? Make it a point to fix them, particularly if you're going to have people over who walk with canes or use wheelchairs and other personal assistive devices.
Another key safety element for the exterior of your home is lighting. Replace any missing or burned out light bulbs on the outside of your house and along your property line. Remember that if you're having guests over earlier in the day, they may want to hang out outdoors if it's nice. So clean up your backyard and front yard if needed.
Take a look at your roof while you're going over everything outside. Do you need some storm damage roof restoration? Although roofers do tend to get very busy in the late fall, they may be able to accommodate some last-minute repair jobs that aren't too massive. Give your favorite roofing company a call and see if they might come your way before Thanksgiving.
Are you ready for Thanksgiving visitors to experience very few allergies when they walk into your house? Part of creating a safe environment is offering them a spot to eat in that has decent indoor air quality. Therefore, take care of anything that might be problematic such as a mold problem that you haven't addressed. Some individuals are violently allergic to mold spores and will experience respiratory responses when they're near mold and mildew. If you have a small spot of mold, you can clean it yourself. On the other hand, if your mold issue is widespread, you should probably call a mold remediation specialist.
Get All the Bugs Out, Literally
Your guest list for Thanksgiving includes turkey. It doesn't include bugs, though. However, all those creepy crawlies living in and near your home might decide to crash your party. Head them off at the pass by contacting an exterminator.
Today, exterminators have plenty of options at their fingertips to ensure that your home stays bug-free not just at Thanksgiving but all winter long. Plus, many of them use solutions and products that are eco-friendly and safe for kids and pets. Give one a jingle and find out what they can do.
Prepare Yourself for the Stress
Who can really answer the question are you ready for Thanksgiving with a full-fledged yes if they haven't already done something to ease off their stress? Let's face it: You know that you're going to get overwhelmed at some point or another. It's just par for the course. Nevertheless, you don't have to let Thanksgiving eve or day become a nightmarish occasion. Instead, stock up on whatever helps you calm down.
What are some ideas for calming agents and ideas? If you're into yoga, be sure your yoga mat or other equipment is good to go. Get up early on Thanksgiving and do some of your stretches and meditations. That way, you'll be in a suitable frame of mind.
Like to depend on green alternatives to stress relievers? CBD oils and creams could help you remain calm, even if everyone forgets to bring the food they were supposed to make or purchase. Another natural way to de-stress is to journal your feelings as they come up. You can then re-read them later and figure out if they still matter.
Finally, a great way to prepare yourself for seasonal stress is to embrace the fun in the moment. Instead of worrying about every little detail or fretting over the small stuff, let accidents happen. Wine will spill. Water glasses will break. The dog will steal a turkey leg. It's okay, and it's not going to ruin anyone's holiday.
Decorate for the Holiday
Thanksgiving remains a perfect opportunity for you to dress up your home. You don't have to just stick to Thanksgiving themes, either. Thanksgiving is close enough to other holidays like Christmas and Hanukkah to warrant fixing up your house with everything from strings of festive lights to a tree to inflatables in the front yard.
To make the most of your decorating, think like someone who went to art design school. In other words, start with a theme. Pretend you picked a classic Christmas. What would that look like? What decor could you put up that would make you say, "Definitely!" when someone asked, "Are you ready for Thanksgiving?" You might opt for something like battery-operated white "candle" lights in all the windows and a holly-trimmed green wreath on the front door. Or, you might want more of a vintage Christmas. In that case, you could put up vintage-style holiday decorations that you purchased online or at a local antique store.
No matter how you decorate, be sure to put your all into the occasion. It's tons of fun to let loose and increase the sparkle and personality of your place at the holidays!
Prepare to Capture Memories
You've spent tons of time planning for your Thanksgiving. From the meal to the decor, you've made sure everything's going to be just perfect. Now, be certain you can capture all those impromptu laughs and nostalgic moments by having your camera and other devices ready to go.
Buy new chargers for your outlets, have handfuls of batteries in your supply closet, and finally tackle those nagging iPad repairs. That way, you'll be able to snap away as your loved ones dive into a day of fun, food, and fellowship.
Are you ready for Thanksgiving? Do you think it's going to be the best experience ever? If you've done everything you possibly can to get yourself and your home ready, you absolutely are. This year, concentrate on the magic of every moment. Life is precious, and holidays are fleeting. Make every minute a time to remember.