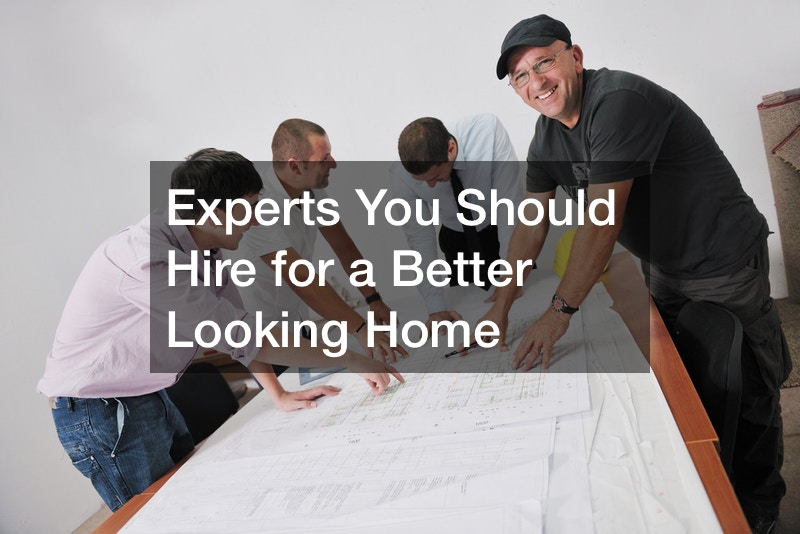 Experts You Should Hire for a Better Looking Home

Everyone desires to have the best-looking home. Fortunately, with the right professionals, this goal is quite achievable. All you need to do is to be thorough with your search and not rush the process. Read on to find out more about the experts you need for a better-looking home.
An Interior Decorator
Before you start thinking about the outside of your home, you must make sure that the interior looks impressive as well. One way to achieve this is to hire an interior decorator. This is a smart decision if you want to invest a bit of money into the appearance of your home. Once the job is done, you can be guaranteed that your home will look impressive no matter who comes to view it.
An interior decorator will be able to assist you even if you have no idea what you want your home to look like. They can present you with options and choose the outcome before they begin their work. They can also assist you if you have an idea of the outcome you want but aren't sure how to put everything together. Sometimes, you might do the work, but you won't have enough time to see things through.
Most people think that interior decorators are only for the rich and famous. However, this is not true. Even if you don't have a lot of money, you can still hire one and get your home looking its best. In fact, an interior decorator will save you a lot of time and money.
An interior decorator will be able to give you a professional assessment of your home's interior. They will then develop a solid plan of action that details what needs to be done. For instance, together, you can develop what needs to be repurposed or edited. This way, you will be able to spend efficiently. Think of a designer as a set of eyes that see and pick up things you may not.
If you are looking for the wow factor, then you cannot afford not to hire an interior designer. They think differently, and because of their experience, they can see the overall picture that you aren't able to see. They are also trained to think outside the box to top things off. This means your home's interior will stand out, and you can have an impressive outcome.
A Landscaper
Once you are done with the interior of your home, you must also ensure that the outside and yard are properly taken care of. This includes the grass, plants, and everything else in the outdoors.
For a truly beautiful home, you need a good landscape design. A properly trimmed landscape not only boosts your curb appeal but also significantly increases the value of your home. Apart from that, it also encourages you to do a lot of outdoor activities. Unfortunately, landscaping is not as easy as most people imagine it. This is why you must hire a landscaper if you want an impressive outcome. You might think that DIY is the best approach, but there is more to landscaping than just planting or adding some stones or walkways. Several other things come into play.
When you make the decision to hire someone to do your landscaping for you, you must first consider the type of outcome you want. This will tell you whether you need to hire those into gardening or someone who specializes in professional landscaping. It's advisable to work with a landscaper because they can cover everything, including gardening since they also have extensive plant knowledge.
Unlike a gardener, a landscaper considers not just what plants to include in your yard, but they also think about aesthetics. You can rely on the services of a landscaper because their reputation relies on the outcomes. This guarantees you a good quality outcome whenever you work with one. Also, you will be able to get the appearance you want without spending a lot of time or handling the troubles and worries that come with creating a beautiful landscape.
A Paving Specialist
Whether you want to replace or install the paving in your parking lot, or driveway, it's advisable to hire a paving contractor. This might seem like an unnecessary expense, but a nicely done pavement will increase the value of your property and make your home look good.
Most people choose asphalt paving for their homes. When newly poured, asphalt is usually black. However, with time it will fade to a gray color. The solid color of asphalt and its smooth surface are aesthetically pleasing. When installed by a professional, they will ensure it has sleek edges that give your driveway a clean appearance. The paving contractor can also do some artistic edging with brick or stone to give you an ultimate look.
You can also hire a parking lot and driveway maintenance company to maintain your surfaces and keep them looking new. They will work hand in hand with you to develop the best maintenance plan for your needs by carrying out tasks like asphalt sealcoating service. By letting the professionals take care of your paving needs, you will be free to focus on other areas of your home that need your attention.
A Painter
You will be surprised how much a fresh coat of paint will improve the look of your home. However, painting your entire home on your own is nothing short of a daunting task. This is why it's advisable to hire a professional to do it for you. Professionals will not only give you aesthetically pleasing results but you can be guaranteed that the paint job will last.
If you choose to paint the whole interior and exterior of your home on your own, there is a high risk that you will end up with a less than impressive outcome. Apart from that, unless you have nothing else to do, you might end up spending months on the job. On the other hand, a professional painter has all the time, the right tools, and the experience to complete the job in record time and give you the best results possible.
So, if you want to make a statement with the wall color, you should search for the best painting company in your area. They will help you choose the best quality paint that will last for years before you need a replacement. Apart from that, professional painters know how to create clean lines and leave no messy flakes, debris, or chips.
Swimming Pool Contractor
Relaxing in your swimming pool in the summer months is the ultimate luxury. There is no better way to spend a hot day than cooling off and having drinks by the poolside. Apart from enjoying a swim from time to time, having a swimming pool in your backyard is one of the best ways to improve your curb appeal. Swimming pools are among the best water features you can have in your home. There is just something relaxing about looking outside and seeing the water ripple and sway even when you are indoors.
If you need a swimming pool in your yard, all you need to do is find a reliable swimming pool contractor. They will present you with several options to choose from if you don't already have a pool in mind. There are several types to choose from. Most people nowadays prefer an in ground swimming pool. Apart from searching for swimming pool contractors on the internet, you can also ask for referrals from your friends, colleagues, or family. If you choose an in ground swimming pool, be sure to check out in ground swimming pool costs before you go ahead with the project.
Nothing will deteriorate the look of your home more than a flaking, peeling roof. By replacing it with a modern roof, you will be guaranteed a polished and beautiful aesthetic. Another advantage of getting a new roof for your home is that it will afford you the opportunity to add spray foam insulation. During this period, you can also hire a mold inspection company.
Once you decide to install a new roof on your home, the first thing you must do is find a roofing contractor. These professionals will help you choose the best materials for your roof and the best roofing style. Nowadays, there are many roofing materials to choose from. For instance, you can either go for metal, wood, or asphalt shingles. If you are undecided, a roofing contractor can explain the advantages and disadvantages of each so you can make a better-informed choice.
A clean, shiny roof will do a lot to improve the look of your home. However, you can't do it without a reliable and professional roofer. You will also need a roofing contractor to help with the maintenance of your new roof. There is a lot that can cause damage to your roof, but as long as it's being maintained well, you can expect it to look good for many years.
A Plumber
Another expert you will need to improve the look of your home is a licensed plumbing service. You might not know this, but good plumbing can also contribute to the look of your home. It will also contribute to the value of your home.
Upgrading plumbing fixtures is a great way to improve the practicality and appeal of its appearance. To do this effectively, you will need a professional plumber. They will be able to maintain, install or upgrade your plumbing in a way that improves the comfort and functionality of your home. Plumbing is essential for the operation of several things in your home. For instance, you need it for your toilets, dishwashers, and showers.
You must make sure that you hire an experienced and skilled local plumbing service with a good track record. That way, you will rest assured they will help you choose the best-looking fixtures and give you results that are built to last. For instance, nowadays, most people are going for pull-out faucets instead of the old ones you twist. These are not only functionally superior but are also quite attractive. They can be pulled out with a single hand, making them extremely versatile. Your plumber can also help you upgrade your sink to a dual-basin kitchen sink. This boosts functionality and improves the appearance of your kitchen as well. You can also hire a drain plumbing company to make sure that every part of your plumbing system is functioning as it should.
Adding new windows is another great way to improve the look of your home. For this, you must find a reliable window installation company. The best place to start would be the internet. You need people who are not only good at what they do but who also charge reasonable prices.
You'd be amazed at how many window options there are out there and how each panel of glass can transform the appearance of your home. A professional window installation company will be able to present you with a number of styles, shapes, and different window sizes to match the look of your home. This is what will give your home the personality you are looking for.
There are so many ways to customize your window to achieve the look you are looking for. So, as you are looking for a window installation company, you must include some questions about materials, color, grille pattern, and shape in your interviews. If they seem knowledgeable about these things, you can trust that you are working with someone who knows what they are doing.
A professional window installation company will be able to upgrade your windows, so they complement the character of your home. Apart from that, you should also ask questions relating to energy efficiency. Your windows play a huge role when it comes to how energy is used in your home. They also add the architectural detail you need for your home to stand out from the rest.
These are some of the experts you will need for a better-looking home. However, as you are searching for these experts, you mustn't forget to check out reviews and testimonials. It's crucial to find out what other people who have worked with them are saying about the service they provide.