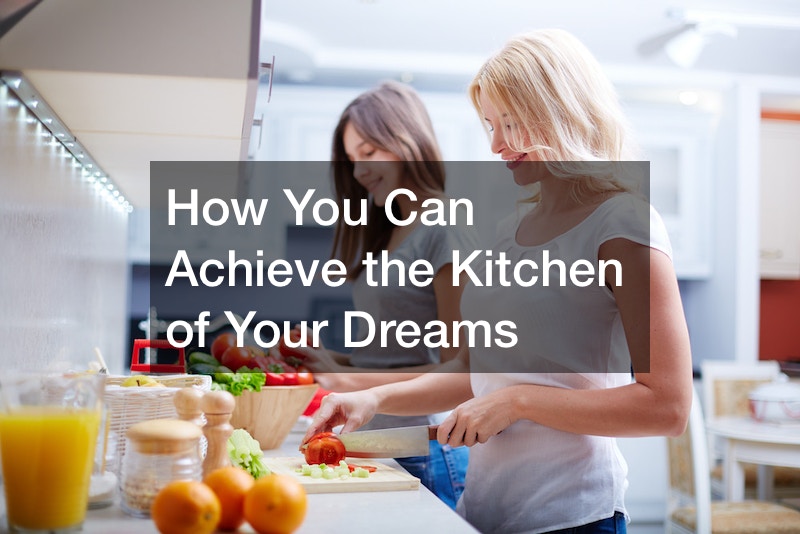 How You Can Achieve the Kitchen of Your Dreams

They say the kitchen is the heart of the home. No lie there. However, you must make a few strategic improvements to turn yours into the kitchen of your dreams. Here are some tips that can help you achieve this goal.
1. Turn To Experts
While you should be involved in building or renovating the kitchen of your dreams at every step, don't go overboard to the point where you attempt to handle everything yourself. Doing so can go horribly wrong. Getting professional assistance is always a good idea.
There's a lot involved, from the wiring, plumbing, carpentry, and other complex installations and tasks that you should leave to the relevant professionals. Poorly installed stone worktops and deck slabs can result in mishaps. Awkwardly placed electrical grids may increase your home's fire risk.
2. Choose the Right Lighting
Having good lighting in the kitchen is extremely important when trying to achieve the kitchen of your dreams. You'll need it when preparing meals at night to ensure safety. If you can't see what you're cutting, you may end up with a piece of your finger in your salad. Lighting also contributes to the overall aesthetic of your kitchen. So, you want to be intentional about the fixtures and type of lights you choose.
To ensure optimal visibility when performing tasks like meal prep and cleaning, you must invest in task lighting. Here, you want to think of LED strip lights under an upper cabinet for even illumination without heat. You can also opt for a track system if you have a kitchen island. Whatever option you choose, ensure your prep zones are shadows-free. The easiest way to achieve this is by installing task lighting above or in front of you instead of behind you.
That should sort out your kitchen's functional lighting needs. Now, you want to focus on the aesthetics. Add soft ambient lighting to bathe your kitchen space with light and give it a cozy, inviting glow. Here, you can go for a pendant above the dining table or kitchen island counter, a central ceiling light, or downlights around the room's perimeter.
To highlight unique elements like a backsplash or a striking island facade, use accent lighting. Strip lights under a countertop or cabinet are also a great idea. You can also fit your open shelves and glass cabinets with accent lights to make your displays pop.
Lighting control systems let you adjust the lighting and ambiance of the room as needed. For example, dimmers allow you to choose between bright illumination for prepping meals and cooking and a cozy glow for the optimal dining experience. Adding controls on separate switch plates will give you control over lights in different rooms.
3. Pick the Right Flooring Option
Are you searching for the best flooring option for the kitchen of your dreams? Selecting kitchen flooring can be challenging when you know the number of factors you need to consider. Your choice will majorly impact how your kitchen looks and feels. Besides the aesthetics, you want something durable, so you don't have to get replacements too frequently. Here are some of the things you need to think about.
Before you can even get to the part where you start looking at the different flooring options available today, ask yourself, "How much can I spend on my kitchen floors?" Once you answer this question, you'll better understand what options are within your financial reach. If you skip this part, you may end up overspending and possibly even go into debt. With that out of the way, consider the upkeep needs.
All kitchen floors need regular cleaning and maintenance to preserve aesthetic appeal and functionality. So, when shopping for your new floors, consider how much time you'll need to scrub or mop them when dirty. Kitchen flooring tends to attract dirt, debris, and grime, and the last thing you want to do is spend hours scrubbing stains. Go for options that aren't prone to staining, especially if you have pets and children.
For instance, you can pick floors labeled as "stain-resistant." These will be easy to clean. If you want something that's durable but has minimal maintenance needs, consider concrete. Remember, you can always seek the help of a seasoned flooring company. These professionals will walk you through every step of the process, from picking the ideal floors for the kitchen of your dreams to prepping the surface to the installation.
4. Choose the Right Wall Colors
You can't afford to go wrong with your kitchen's walls. They're one of the most significant aesthetic features of the room. So, when picking the colors for the wall surfaces of the kitchen of your dreams, be intentional. While an interior painter can help you with this part, it always helps to know your stuff.
You can never go wrong with harmonizing shades. Think of your kitchen as a whole. Choose a wall color that unifies the space. Perhaps the grain in your cabinets is the perfect color for your wall paint, or you like subdued hues like gentle yellow, light gray, salmon, ivory, or pale aqua that will draw the eye while accenting your cabinets. Steer clear of dark hues as they might make your kitchen appear smaller and clash with your cabinetry.
Almost all wall colors go well with white cabinets. Choose a light hue, like beige, yellow, or white, to make your space appear bigger and more airy. With either of these, your kitchen will likely feel pristine and cheery. However, if you'd rather make the space darker, consider using colors like mocha or red.
Your goals and how you want the space to work together will determine what color wall you pick to complement your kitchen cabinets. What do you prefer: bright or dark? Do you want to make your cabinets stand out or blend in? Your kitchen's paint color selection will influence what you hope to achieve with the space.
5. Repair Appliances
The kitchen of your dreams can't be complete without properly working appliances. A common misconception among homeowners is that you must get a replacement when something like the oven or microwave stops working. That's not always the case. You can easily resolve some issues with assistance from appliance repair services and enjoy some great benefits.
For example, timely and effective repairs will extend the lifespan of your appliances, reducing the need for costly premature replacements. Besides saving you money, this will also lessen the waste you send to landfills. Performing repairs on appliances can also improve their performance. It may translate to lower energy consumption, which your wallet and the environment will be happy about. So, if you've been looking for ways to make your monthly energy bills more manageable while reducing your impact on the planet, this is a project you should undertake.
There's also the added benefit of you may have the fixes done free of charge if the appliances are still under warranty. Yes, you read that right. Whether it's your dishwasher, stove, or oven that has broken down, but it's within the warranty period, you won't have to spend a dime on this project. You can avoid headaches and save hundreds of dollars. Thus, consider this the next time you're debating whether or not to contact an appliance repair service! It could well be worthwhile for you to do.
6. Consider An Outdoor Kitchen
An outdoor kitchen may be the kitchen of your dreams. Having the "heart of the home" outside is a trend that keeps getting more popular. There are good reasons for this.
For one, an outdoor kitchen setting will take entertaining at home to a whole other level. Think about it. When you're grilling your famous steak, you can have some of your guests gather around the grill while catching up on the week's or month's events.
In your indoor kitchen, things can get crowded quickly when everyone tries to hang out with the chef. However, when you have your kitchen outside, you'll have much more space. To make the space cozy, add comfortable outdoor patio furniture, heaters, string lights, and mood music.
Taking things outside may also lower your monthly utility bills. When you broil, roast, fry, and bake foods in your indoor kitchen, your home's temperature rises a few degrees, causing your air conditioner to go into overdrive. However, when you fire up your grill outside during the sweltering summer heat, your AC won't have to run nonstop to keep your home cool. Having your kitchen outside will help you reduce your energy consumption, so you won't be hit with crazy bills when the provider comes collecting.
7. Invest in Recycling
According to the Recycle Coach, fewer people are recycling in the United States. While there's a significant increase in the number of Americans concerned about climate change, our worries don't seem to reflect, particularly in how we manage waste in the home. One of the simplest ways to create a greener house and contribute to the planet's well-being from your kitchen's comfort is by adopting a customized recycling program and composting.
However, before starting this project when creating the kitchen of your dreams, you must familiarize yourself with the local recycling and composting guidelines. Depending on your state, there are varying rules on what you can and can't compost or recycle. For example, some municipal governments offer food trash dumpsters, which make disposing of organic waste easy! Some refuse to accept your home composting, so you're left to handle it.
8. Update the Kitchen's Faucets
While you think about the kitchen of your dreams, the faucets are probably the last thing that comes to mind. However, updating them can significantly improve your kitchen's aesthetics and functionality. A single-handle kitchen faucet, which may have a side sprayer, is the most basic type available.
If you already have this and want an upgrade, you can opt for a single-handle kitchen faucet with a pull-out spray head. Most homeowners today gravitate to gooseneck kitchen faucets featuring pull-down sprayers. If you'd like to add a touch of luxury, many of the more expensive, higher-end models now have touchless operation and voice control supported by smart technology. Whatever you choose, always verify the faucet's maximum height and spout reach, particularly if you have cabinets over the kitchen sink.
As you update the faucets, consider getting water filter attachments to ensure a steady, clean water supply. Most tap water contains chemicals like fluoride, lead, and chlorine. While they may serve certain useful functions in municipal water supplies, these chemicals can harm your health. A water filter will lower these chemicals to safe levels so no harmful substances are in your drinking water. For this project, it's best to enlist the help of a seasoned plumbing service.
9. Clean Your HVAC Systems Air Ducts
The air ducts of your HVAC system play a key role in your home. They ensure your kitchen is well-ventilated and there's a constant fresh air flow. Considering how hot things get in the kitchen, you want the ducts to always be in optimal working order.
As you strive to achieve the kitchen of your dreams, hire seasoned air duct services for a professional duct cleaning and maintenance job. These professionals will clear any grease, dust, or dirt build-up, improving the efficiency and effectiveness of your HVAC's cooling efforts and the space's air quality. Be sure to work with the company that does the job to create a maintenance schedule that serves your needs best.
10. Keep the Windows Clean
Clean windows make a huge difference for any room, especially the kitchen of your dreams. They make the space feel professional, welcoming, and most importantly. brighter. However, the benefits extend beyond just appearance.
For example, when the windows are clean, the air quality in your kitchen will improve. You may wonder "How does this make sense?" Consider all the debris, grime, and other contaminants on your windows over time.
All that gunk will move through your space when you open them to get "fresh air," the irony. The result is allergies, respiratory issues, and other health complications. Routine window cleaning will free your kitchen and home of these pollutants, enhancing the indoor air quality.
Your kitchen is one of the rooms where you spend the most time in the home, so ensure it doesn't come short, whether regarding the aesthetic or functional aspects. For any significant or unique jobs, enlist the help of a custom home builder. These professionals will work with you to achieve the kitchen of your dreams.